PCS Student Council - Making a Difference in our School
 2018-2019 Student Council Officers
President - Emma Reed  Vice-President -Brianna Torres, Secretary- Gianna Grivetti, Treasurer- Abby Michels, 8th Grade Representative- Mia Morrow, 7th Grade Representatives- Lauren Hogan and Gavin Hahn, 6th Grade Representatives-Madalyn Dittmar and  Blair Stuepfert.
This year, our student council will work with the Jr. High teachers and students to collect items for our local Peru homeless shelter, P.A.D.S.  The Jr. High students will be bringing in items for this special drive.  The list of items that are needed are listed below.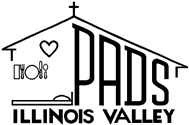 Peru Catholic School's Student Council is an extra- curricular activity offered to our sixth through eight grade students.  It provides students with the opportunity to gain leadership, while serving the school and promoting community awareness.  Mrs. Quesse is our Student Council advisor. Speeches were given on  September 20th. Voting took place on Friday morning, 9/21/18 in the 6th, 7th, and 8th grade homerooms. Student council meetings will take place on the first Wednesday of each month.
Some of the activities that the Student Council participates in are:
Food Pantry Drives
Mission Theme Days
Catholic Schools Week activities
St. Nicholas Mass
Jr. High activities
The Catholic Schools Week Cereal Drive for the Illinois. Valley Food Pantry was a big success.  We would like to thank all the students and families of Peru Catholic for making this such a wonderful drive.  Over 100 boxes of cereal was collected.
Let's Pack the Pantry
We will be starting our school wide "Pack the Food Pantry" Drive next week.  We invite all students and PCS families to help us make this annual food pantry drive bigger and better than last year!. Please bring in your donations to your classroom in the weeks ahead.  Student Council will be offering a prize to the class that bring in the most items!